If you could travel in time, which era would you visit and why?
I'd REALLY love to go back to 2004. It was an amazing year for me but if it was an era, probably the 1950s. It looked soo fun and it just got me loving it more by watching "Pleasantville"!
(
Feedback
Collapse
)
Other feedback: crossxhearts @ laundromatic
SUMM3RxBABii @ soompi
LUxURi0US STEALS @ MySpace
Transactions


Pending, deadbeats, etc.


(
Transactions
Collapse
)
7/22/08 - Sent out item. Awaiting feedback.


blisteringcold
10/20/09 - Received item. Awaiting feedback.

Your username will remain here until you leave feedback.

People I will not work with

lovinya02 - This girl seriously has issues..and I mean anger issues. She posted some stuff she wanted on
_wantlists and since I was the first person to reply to her post, I thought she was ignoring me since she has replied to every else's comments, so I messaged her politely if she was interested and she cursed the shit out of my on her post like, I'm an "immature bitch and a pyscho", etc. Who does that? Clearly, she has anger issues. Honey, if you do, then people stay off anywhere public. You're gonna scare people with your mental issues. Just because you have "1000+ positive" feedback, doesn't make you a better person & just because you've had a lot of transactions, doesn't mean you're a 'professional'. Go work for Apple and see how you handle that. Just because I was new and a little impatient because I was experienced, doesn't make me an idiot like you.


Because they're ignorant, selfish people who finds a stupid reason to hate. :)

Because I'm "annoying"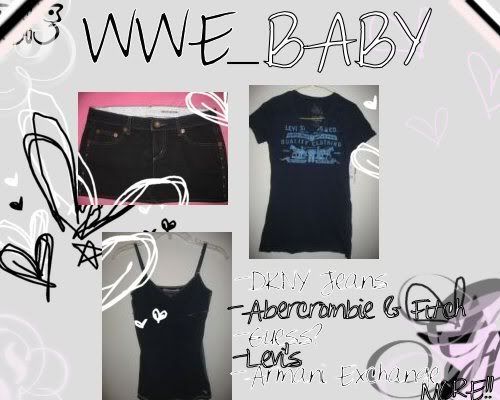 Hi!! I am currently selling some stuff just to get a bunch of things off home to have more storage. Most of these things are either new or used. I just started doing this so please give me some time.

The only payment I am going to accept is concealed cash or money orders through mail. I do not have PayPal or any kind of online payment.

If you have any questions, please e-mail me at BABii_ANG3L@fanmail.biz

** (CLiCK ME!!) **